IMAGE Magazine: 7 Irish beauty buys that will have make-up lovers swoon

From giant make-up bags to Hollywood vanity mirrors, here are the best beauty buys to gift this Christmas.
What do you buy someone who loves doing their make-up that is not just… well, more make-up? The answer is something they desperately need – organisational accessories.
You can tell a beauty fiend from her three signatures – a bulging make-up bag scuffed with concealer and lipstick smears, make-up stains on every hand and face towel they own and, of course, a designated vanity or spot where they perform their daily beauty ritual.
And while every beauty lover has a specific regimen of products he or she uses, they all appreciate long-lasting, high-quality accessories like make-up bags and LED mirrors to help keep their routines as easy and organised as possible.
So, we've rounded up the top beauty buys from Irish brand GLAM DOLL to gift that talented make-up lover in your life.
€179.99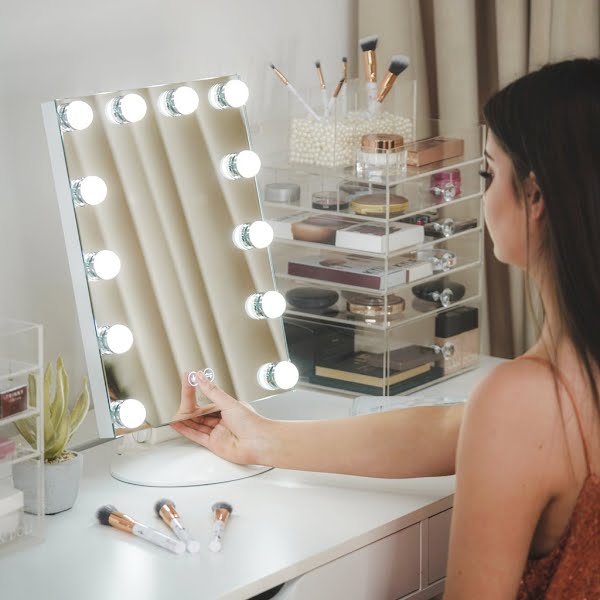 This Christmas, give the gift of perfect make-up lighting with this Hollywood-styled vanity mirror. It features 12 bright LED lightbulbs that can dim and change colour with three main settings – cool/blue light, warm/yellow light and natural light. Simply, press the button in the centre of the mirror and you'll have just the lighting you need. Plus, you can pivot the mirror for the ideal angle when applying make-up.
For something even grander, 'The Malibu' Hollywood Pro XL Mirror comes with 14 lightbulbs, two built-in power plugs and two USBs, so you can blowdry and curl your hair or charge your phone within reach while getting ready.
€59.99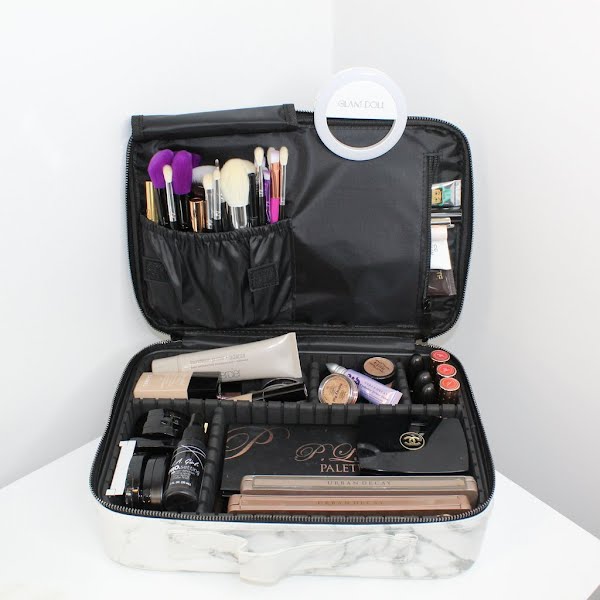 Ideal for the mobile MUA or frequent traveller, this medium-sized make-up case is fully customisable. It comes with plenty of space, including a large zipped compartment, a brush holder pocket with protective flap, and removable dividers that can be rearranged to neatly fit all different sized products. It also has a hard case insert to protect your powders and palettes from smashing if roughly handled on your next holiday getaway.
€99.99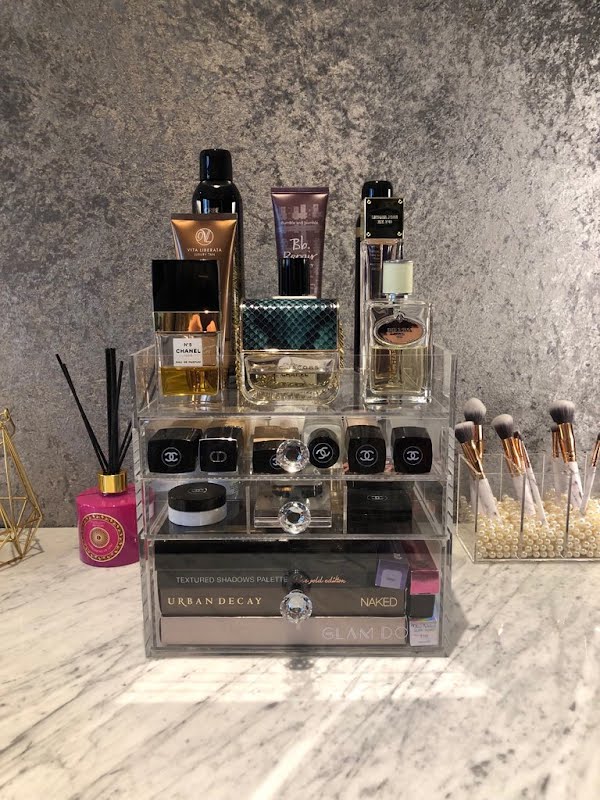 There's nothing more stressful to a beauty buff than an unorganised vanity. This clever Mini Glam Box keeps things tidy while also not taking up too much space. The compact organiser has two smaller pull-out drawers, a double-height bottom drawer and a hinged top with additional storage space for larger items like perfumes and haircare. It also comes with internal dividers that allow you to customise the space, so you can keep your lipsticks, compacts and brushes from sliding to the back and right in view where you want them.
€69.99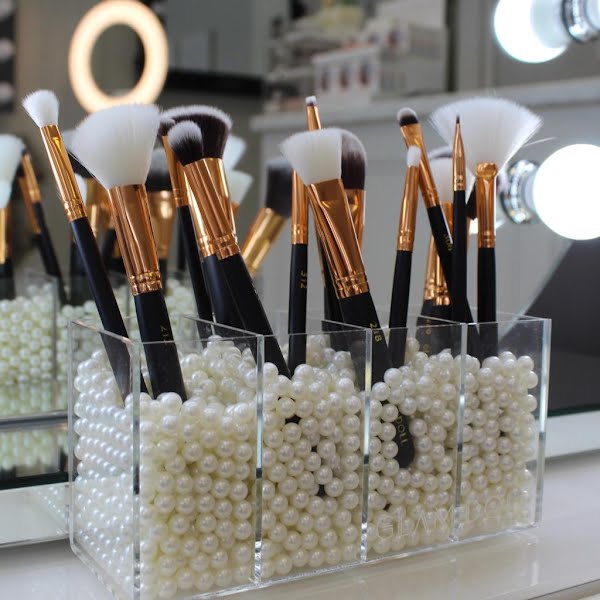 Beauty fans can be extremely picky about their make-up brushes and it's easy to see why. Not only do brushes have to endure daily use, but they can make or break how your make-up looks by how well they apply. Thankfully, we've got you covered with this 15-piece professional brush set. It's made with high-quality synthetic bristles which have anti-bacterial properties as well as being animal-friendly!
The set includes every brush you can think of, including conturing, eyeshadow (for blending, buffing and creases), eyebrow and lip brushes. Each features a black birchwood handle and rose gold aluminium ferrule, AND they come with a matching clutch.
€29.99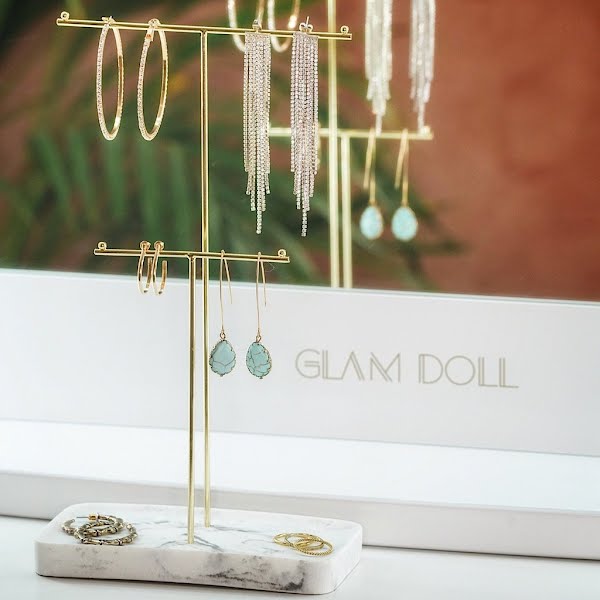 This sleek, marble jewellery holder will look stunning anywhere it is placed. It has a sturdy marble base to prevent accidental tipping and two tiers of gold bars for hanging earrings, necklaces and bracelets. The gold accents give it an elevated look to make even your Penny's best look like designer finds.
€44.95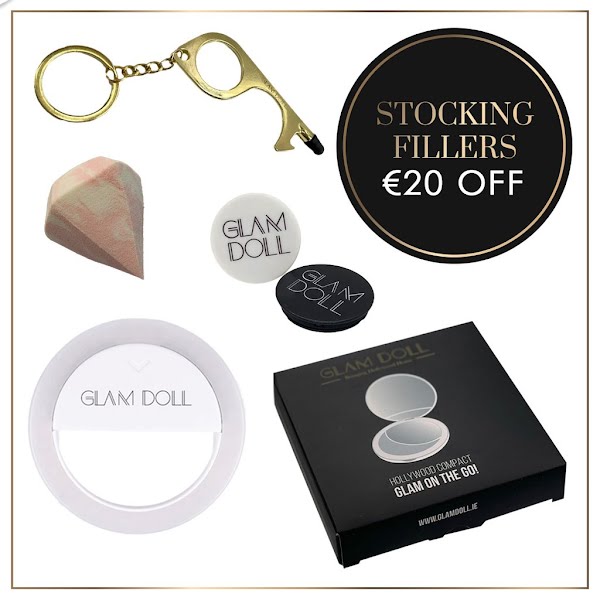 Not sure what they want? This gift set of tiny beauty finds has it all. It comes with a light-up compact, a latex-free make-up sponge, a pop socket, a no-touch key ring and a selfie ring light for flawless photos. Buy it for stocking fillers or keep it for yourself – perfect for on-the-go touch ups throughout the holiday season.
---
Shop more GLAM DOLL beauty ranges online or from GLAM DOLL boutique in Maynooth, Co Kildare.
---